Women's Organization for Political Prisoners (WOFPP)
Urgent Call!
Release Hanaa Shalabi immediately!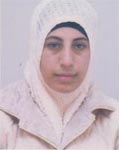 Hanaa Shalabi from Borkin, Jenin district, was released in October 2011 in the prisoners exchange deal for Shalit. On 16 February 2012, the Israeli occupation forces entered her home at night and arrested her again using violence. She was broght to Hasharon Prison, and the Israeli authorities placed her under administrative detention for six months.

Administrative detention means that the detainee is being held without charge or trial, and the detention can arbitrarily and endlessly be extended. Hanaa was previously held in administrative detention by Israel for more than two years.

On the day of her arrest, 16 February 2012, Hanaa began an open-ended hunger strike, demanding the end to administrative detentions, to the violent arrests and violence in interrogations.

Hanaa has been separated from the other political prisoners and is held in the wing of criminal detainees, presumably as a punishment.

Today, 27 February 2012, is the 12th day of Hanaa's hunger strike.

Support Hanaa and her demands.

Please distribute this urgent call as widely as possible.

Write letters demanding her immediate release and to stop administrative detentions to:

The International Committee of the Red Cross -

The delegation in Tel Aviv
ICRC delegation
Fax: +972-35 27 03 70

The delegation in Jerusalem
ICRC mission Fax: +972 2 5917920

The Israeli Minister of Defense:
Ehud Baraq
Fax: +972-3-6976711

The Israeli embassy in your country


Stop the administrative detentions!
Release Hanaa Shalabi!